Laurie Goodman's interest in science stems from a childhood enthusiasm and curiosity for exploration and the guidance of a relative who helped her understand how to identify trees by their bark and the many ways that trees could be used. Besides curiosity, Laurie also had a creative imagination and as a child she would picture terrifying monsters in the dark, building up her fear of night time. To help conquer this fear her mother encouraged her to apply her imagination to writing before bed.

Over time, writing became her lifelong pursuit and having completed a Ph.D. in Biochemistry and Molecular Biology from the University of Chicago, Laurie combined her two major enthusiasms by delving into the world scientific publishing. As Laurie explains: "For me, getting into scientific publishing was a perfect choice because it has all the things that fit me very well – my passion for asking questions, discovering the world and writing".
She has never looked back. She was the assistant editor of Nature Genetics, Executive Editor of Genome Research, and Managing Editor of Learning & Memory. In 2004, she founded her own company, Goodman Writing & Editing, and began her long-term cooperation with BGI Group. She formally joined BGI Group in 2008. Together they launched the award-winning magazine GigaScience and GigaByte. She and her team have founded GigaScience Press, an international, open-source publisher that aims to scientific publishing more exciting and approachable. She also considers encouraging women in science as her avocation and taking charge of BGI's Annual Women in Science Conference, which invites only women in science to exchange and share opinions, experiences, and research results.
Laurie's favorite saying— especially for helping young women scientists succeed in their careers: Challenges are Simply Problems Waiting for a Solution. We are delighted to invite Laurie to share her experiences, aspirations, and reflections as a woman in science. We are delighted to invite Laurie to share her experiences, aspirations, and reflections as a woman in science.
Q: Can you tell us about the two journals you are working on?
Laurie: The goal of everyone on our team is to change how scientific publishing is done. We launched GigaScience 10 years ago with the idea of going beyond PDF: we created a database to host all data, software, and other tools the scientists had used to do their research for papers they wanted to publish. Therefore, anyone reading a paper had opportunities to verify and directly build on those findings. Basically, we are trying to change published articles from stagnant things you can read (on paper or online) into executable articles. Our efforts were recognized by the Association of American Publishers and we received the Prose Innovation award.
GigaByte is our new journal (1 ½ year), it focuses on biology and medicine based on large data, but these articles are much less complex. The articles concentrate on data presentation, and techniques, rather than on biological findings. GigaByte effectively provides essential information that allows people to answer biological questions immediately. We also often film authors who talk about their work in a more general manner, making it more approachable for people who don't necessarily do research.
Q: What does the work of scientific publishing mean to you?
Laurie: I used to wander the woods with my great uncle in the winter. He taught me how to identify trees by their bark and the use of trees –– from dyeing clothes to natural treatments. I looked at everything that way and sometimes it got me into a little trouble, for example when I caught a snake in the garden and was bitten. Happily, it wasn't poisonous- but my mom was quite upset and had to call the doctor to check! I love exploring, asking questions, and testing things even to the point of getting bitten. It was always fun and mentally stimulating for me.
For writing, I first started telling myself stories, not writing them down. I began doing that because I was terrified of the dark. One day, my mom told me that I was afraid because I was creative and kept imagining bad things. She asked me to come up with good stories until I fell asleep. After that, I have continued writing as a way to calm my mind and stimulate creativity.
My passion for exploring the world and writing has always been with me. I'm happy that my career captured the two things.
Q: Could you introduce the Women In Science Conference you established?
Laurie: I've been fighting for years to get more women speakers in scientific conferences. Women not only need to be regular speakers but also need to be keynote speakers. One year at a conference, there were only twelve women speakers with a hundred people. I wanted to create a conference that only has women. BGI has been very supportive of this.
At the conference, women share scientific research and information as well as exchange advice on lives such as balancing time between family and work. It also helped people find mentors and engage with other people. Although I've just been giving advice from afar since the outbreak of COVID, the conference has been going well because more and more people at BGI are becoming involved and helping to run the conference.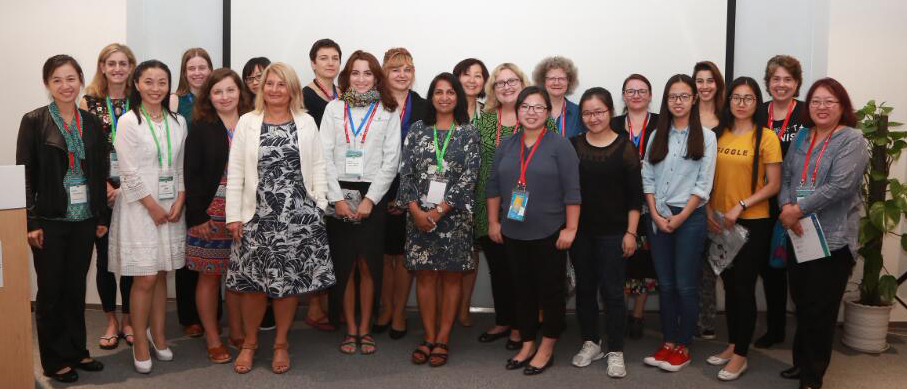 Photo of the 3rd Women In Science Conference on ICG in 2017
Q: The Women in Science Conference you established is now in its 8th year, what changes have you seen? What are your future plans at BGI to promote women in science?
Laurie: We have successfully held seven conferences. The changes we've been putting in place include adding information on writing grants and finding awards, which help women to establish strong careers.
The impact has been enormous. For example, one of our attendees from India made a contact at the conference that allowed her to get a post doctoral place at Cambridge University. Speakers at the conference also enjoy being around each other and have formed unexpected collaborations.
I also want to form women in science groups with BGI to run monthly talks where people share their work and give presentations. It's important to practice speaking at conferences. I also want to teach things about writing manuscripts that can truly boost their career.
Q: What other hobbies do you have after work? Would you mind sharing some experiences that you find interesting?
Laurie: I love dogs. I have two rescue dogs from shelters. I think dogs are something that really just helps me relax my soul and I love working with them, training them. I also love seeing new lands and learning about new cultures. I think that's why I enjoy China so much. It is very different from how I grew up, and every place in China is different, so the entire country is like a world in itself. Traveling for me is definitely about exploration.
Click on the video link below to find out more about Laurie.