BGI-Research Senior Researcher Dr Jovic Dragomirka's exciting journey in life sciences research began during her teenaged years – following her choice of a grammar school in her home country, she ventured into pharmaceutical studies before ending up in regenerative medicine.
"I was always curious about natural sciences, and dreamed of becoming a vet," Dragomirka recalled. "But things took a different turn when I chose to attend the highest-ranked grammar school in my country."
During that period, she became interested in treatments using conventional pharmaceutical drugs. "While pursuing my studies in pharmacy, I chanced upon the opportunity to take up regenerative medicine, which offered tremendous growth potential through the use of innovative technologies such as tissue engineering," she added.
Pushing Boundaries to Excel
In a fortuitous turn of events in 2007, she joined Toshihiro Akaike's laboratory in the Tokyo Institute of Technology to pursue her scientific career. This materialized after she visited a lab and encountered a professor who was carrying out research on drug delivery systems, stem cell technologies, and cell-recognizable biomaterials.
"These particular areas of research captured my imagination and I was hooked from the start," Dragomirka recounted. "Working in Japan was an amazing experience – Professor Akaike is an extraordinary scientist who motivated me to push boundaries and challenge myself to reach greater heights. I especially love the burst of adrenaline that comes each time I'm on the verge of a breakthrough!"
Dragomirka also had the opportunity to work with novel technologies, using biocompatible materials called E-Cad-Fc that supported stem cell growth and differentiation. "So it became possible to use these materials to visualize stem cell cycles using FUCCI proteins, and to understand how the differentiation process occurs in different pathways such as hepatocytes or neuron differentiation."
She also had the opportunity to work with the brightest minds from international partnerships and research teams, including many of her Chinese classmates and co-workers from Tsinghua university.
Advancing Precision Medicine
In 2021, her career journey finally led her to join BGI. There, she worked on umbilical cord mesenchymal stem cells research, developed a 3D culture system using microfludicis for stem cells technology, as well as incorporated omics data in her study. These technologies are expected to lead medical diagnostics and improve personalized precision medicine therapies in the future.
"I met another very passionate scientist Professor Huanming Yang in BGI," Dragomirka said. "He was a huge inspiration to me, integrating everything that the scientific industry needed: novel technologies and collaborations, as well as an open-minded working environment for young scientists to excel and break new ground."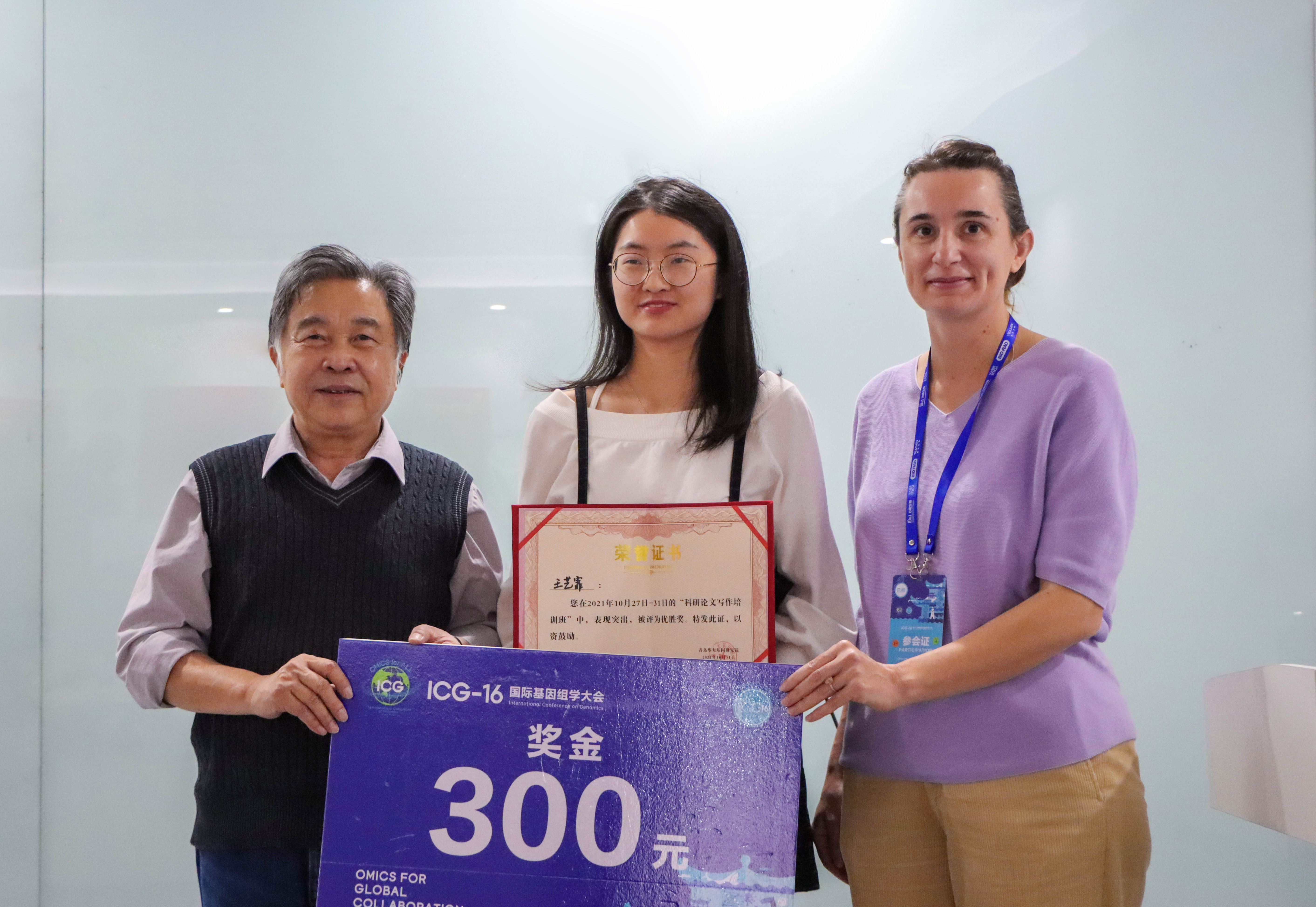 Professor Huanming Yang (left) and Dr Dragomirka presents award to outstanding student on ICG-16, 2021.
A Roller-Coaster Ride
Dragomirka, a mother of two girls, remains enthusiastic about encouraging young women to follow her footsteps in pursuing a life sciences career. "Science is an excellent field in which you are constantly thinking, asking questions, and learning. The process is always dynamic, it's like a roller-coaster ride. Sometimes, it's like solving a puzzle – when you discover the right answer, you are rewarded with a sense of satisfaction to explore further, and then you end up with a publication, a patent, a collaboration or funding."
Meanwhile, her advice is: Don't judge a book by its cover, as women can be just as capable or even better than their male counterparts in the industry. "If you can think outside the box, are full of energy, passionate, persistent, and hard-working, then you have what it takes to become a scientist!" she noted.
Dr Dragomirka gives speech on Woman In Science Conference at ICG-16, 2021.
So it's not a surprise that Jovic herself is a member of the ICG Women In Science Conference. "The ICG WIS conference is a great event that aims to draw attention to the importance of women in science, those who play important roles, but who may be left out of public appearances," she added.
"We are also thinking about becoming an independent conference that will not only promote science, but also cooperation with other educational and scientific institutes, as well as local organizations and government officials."
Click on the video link below to find out more about Dragomirka.