May 25, 2023 - The international standard, "ISO/TS 24420:2023 Biotechnology - Massively parallel DNA sequencing - General requirements for data processing of shotgun metagenomic sequences," jointly proposed by BGI-Research, Chinese Academy of Sciences, China National Research Institute of Food Fermentation Industries, and other institutes was recently officially released. This international standard is the world's first for the standardized processing of metagenomic data.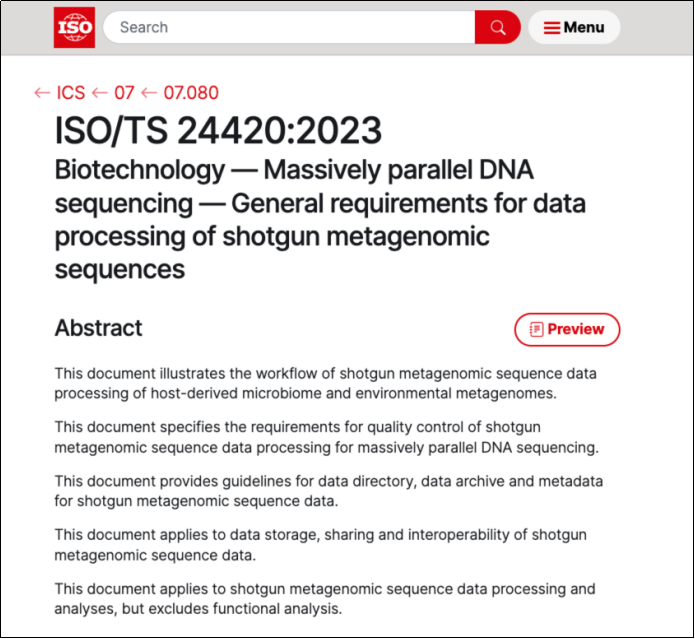 Metagenome is the recovery and complete sequencing of genetic material extracted directly from all environmental samples, and this process of creating a metagenome is referred to as metagenomics. Metagenomic sequencing enables qualitatively and quantitatively determining the types and relative abundance of microbial populations in various environments, as well as identifying the genetic information of individual organisms within these populations. This has wide-ranging applications in medical diagnostics, health management, and other fields.
The standardization of sequencing data processing and quality control is a prerequisite for conducting metagenomic analysis. It is crucial for the identification of complex ecological community species, and significantly impacts the reliability of metagenomic analysis results. Therefore, the establishment of standards for metagenomic data processing, which involves the normalization of sequencing data and the standardization of data quality, is of great significance in addressing the challenges posed by the extreme complextity of high-depth sequencing in current metagenomic research and enhancing the processing and management of large-scale sequencing datasets.
The recently released ISO/TS 24420:2023 standard focuses on the widely used metagenomic shotgun sequencing method. It describes the workflow for processing sequencing data of host-associated symbiotic microbiomes and environmental microbial metagenomics. The standard defines quality control requirements for metagenomic shotgun sequencing data obtained through large-scale parallel DNA sequencing. It also provides guidelines for data cataloging, archiving, and metadata for metagenomic shotgun sequencing, facilitating data storage, sharing, and interoperability.
The metagenomics research team at BGI-Research initiated the development of this international standard proposal in December 2018. On June 22, 2020, it was formally approved by a vote of the member countries of the International Organization for Standardization Technical Committee for Biotechnology (ISO/TC 276 Biotechnology). Experts from Germany, the United States, Japan, Luxembourg, and other countries also actively participated in the development of this standard.
Throughout the process, multiple online international conferences were organized to facilitate discussions and the exchange of ideas among international experts on the technical aspects of the standard. Valuable input from relevant international organizations was also sought and incorporated. Following a rigorous three-year standardization cycle, the standard has been officially released on May 19, 2023.