BGI Medicine, Queensland Health Professional Development Consortium and Shenzhen Medical Association Form Collaboration on Healthcare Professional Development Training Programs

On April 14, 2019, the Queensland-Guangdong Healthcare Professional Development Workshop (hereinafter referred to as the workshop) was held in the Shenzhen. The workshop was an important sub-forum of the 17th Conference on International Exchange of Professionals (CIEP). BGI Hospital Groups, Ltd. (hereinafter referred to as BGI Medical) signed a tripartite Statement of Intent (hereinafter referred to as the statement) with Queensland Healthcare Professional Development Consortium (hereinafter referred to as the Consortium) and the Shenzhen Medical Association at the meeting. According to the statement, the three parties will carry out comprehensive cooperation on short-term hospital training programs.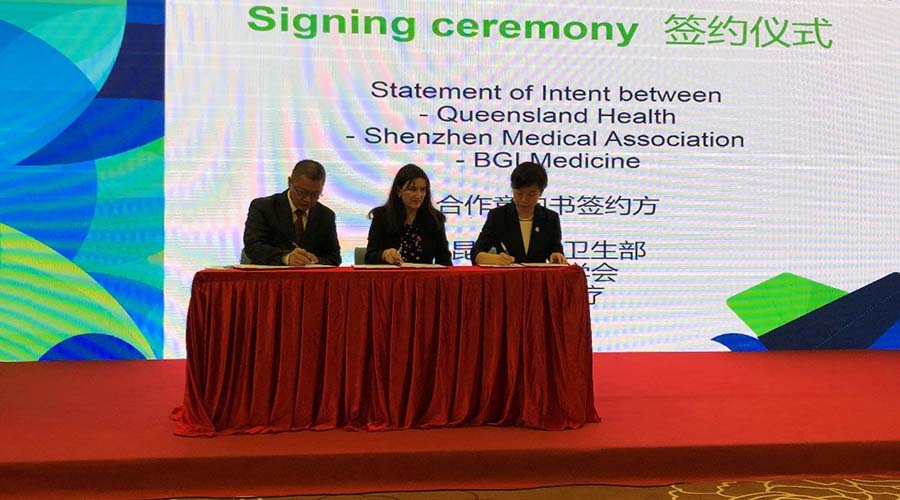 Signing representatives from left to right: Mr. Guangqiang Lai, BGI Medical; Ms. Karen Thompson Queensland Health; Ms. Haolin Chen, Shenzhen Medical Association
The signing of the statement was an important part of the workshop. Mr. Leqin Ji, Chief Officer of Exchange and Cooperation Office of Guangdong Health Committee; Ms. Karen Thompson, Senior Director of Health Innovation, Investment and Research Office, Queensland Department of Health, and Ms. Meihua Sun, Inspection Officer of Shenzhen Health Commission, attended and addressed the event.


Representatives from three parties, Mr. Guangqiang Lai, Director of Education and Training of BGI Medicine, Ms. Thompson, and Ms. Haolin Chen, Research & Development and Comprehensive Assessment Office, Shenzhen Medical Association, signed the statement. "We look forward to forming deeper and long-term communication and cooperation among three parties in training and education in clinical, precision medicine, and gene technologies," Mr. Lai said, "to form comprehensive collaboration in academic exchanges, healthcare professional and occupational training to jointly promote the development of biological and medical industry in China and Australia."
Before the workshop, a delegation of Queensland Health led by HIIRO's Senior Director Ms. Karen Thompson, paid a visit to China National GeneBank (CNGB) and conducted in-depth discussion on collaboration in healthcare clinical professional training, utilizing Queensland's advancement in modern healthcare management system and certification, including short-term digital hospital training, general practice training and accreditation, hospital & digital management certifications, and other content.
"Following our Minister for Health's visit to BGI and CNGB in 2016, this visit is the continuance of extensive communication and the reflection of what's been achieved through collaborative efforts. We expect to expand our collaboration into other areas for more synergy and mutual growth", said Ms. Thompson. The delegation includes representatives from the Consortium members, including Queensland Health, the University of Queensland, James Cook University, Bond University, Griffith University, University of Southern Queensland, Queensland University of Technology, University of the Sunshine Coast, TAFE Queensland, Metro South Hospital and Health Service, West Moreton Hospital and Health Service, and Gold Coast Hospital and Health Service. Dr. Bicheng Yang, Director of BGI Australia; Mr. Guangqiang Lai, and Mr. Weicheng Jiang, Senior Director of BGI Medicine hosted their visit.

Queensland Healthcare Professional Development Consortium Delegation Visits CNGB
The tripartite cooperation will focus to jointly design, develop, and carry out a series of national and international training programs to cater to the needs of China's healthcare professional development training.

About BGI Medicine:
BGI Medicine is a wholly owned subsidiary of BGI Group, committed to clinical transformation and application of genomics technology to enable patients to receive precise diagnosis and treatment, promoting the transition from empirical medicine to precision medicine as the future of medicine and providing benefits for more patients from cutting-edge science and technology.

About Queensland Healthcare Professional Development Consortium:
The Queensland Healthcare Professional Development Consortium was established in 2018 to consolidate Queensland's professional development training capabilities by a range of Queensland providers for large markets like China. The Health Innovation, Investment and Research Office (HIIRO), within Queensland Health, is leading the 12-member Consortium. Other members include seven Queensland universities, three Hospital and Health Services (HHSs) and TAFE Queensland. The Consortium combines access to Queensland's world-leading health and medical research and training with practical expertise in delivering world-class healthcare services.

About Shenzhen Medical Association:
Shenzhen Medical Association was established by medical workers in 1980 as a registered academic and non-profit association. It currently has 75 professional committees and it's business scope includes conducting medical research communications, organizing advanced medical education, and cultivating medical talents.