TORONTO, May 13, 2020 – Today, Sinai Health, a significant centre for COVID-19 testing in Canada, will receive a donation from The Mammoth Foundation of key laboratory equipment to increase its COVID-19 detection capability.

The Mammoth Foundation has donated testing equipment produced by genomics leader BGI Group, in addition to installation, training and logistics support. At the heart of this donation, among other equipment, is the MGISP-960 automated viral RNA extraction and sample preparation robot which will reduce manual processing time, increasing testing efficiency and safety. The equipment is part of BGI's testing workflow approved for use by Health Canada under the Interim Order.

Nucleic acid testing is essential for clinical diagnosis and for containing further spread of the COVID-19 pandemic. With this donation, Sinai Health hopes to raise its COVID-19 testing throughput by an additional 1,000-2,000 samples per day to support the urgent need for additional testing capacity in Ontario.

"Sinai Health Foundation is grateful for the ongoing partnership and generosity of The Mammoth Foundation and BGI Group. This equipment will further enable Sinai Health to support testing in the Province of Ontario," says Louis de Melo, CEO, Sinai Health Foundation.

The donation honors Dr. Henry Norman Bethune (1890 – 1939), a native of Ontario and a graduate of the University of Toronto, who helped bring modern medicine to rural China and is credited with saving millions of Chinese lives.

Dr. Wang Jian, Co-Founder and Chairman of BGI Group, said he has been inspired by Dr. Bethune ever since he was a medical student 40 years ago. "Dr. Bethune brought modern medical care to China during wartime and he has earned our enduring gratitude," he said. "Today, BGI is honored to bring our technologies and experiences to Dr. Bethune's home province. This may be only a small effort, but like Dr. Bethune's utter devotion to others without self-interest, we will keep working with you, the people of Canada, to win this war against the coronavirus."

Mr. Dominic Barton, Ambassador of Canada to China, attended the signing ceremony at BGI headquarters in Shenzhen. "I would like to thank the Mammoth Foundation and the BGI Group for contributing to Canada's COVID-19 testing capability at this critical time through this generous donation of laboratory equipment to the Sinai Health System of Toronto," Ambassador Barton said.

"Facing the global outbreak of the COVID-19, more and more people realize that the world is becoming a community with a shared future," said Mr. Han Tao, Consul General of the People's Republic of China in Toronto. "We must support each other and fight together. I am very glad to see Chinese people and Canadian people are doing so in the spirit of Dr. Norman Bethune. "

Parliamentary Assistant Norman Miller of Ontario, whose constituency includes Bethune's hometown of Gravenhurst, thanked the Mammoth Foundation on behalf of Ontario Premier Doug Ford for supporting Ontario's efforts to fight the pandemic.

The Mammoth Foundation is a non-profit philanthropic organization based in Shenzhen, China, aimed at promoting genome technology for public benefit. It is sponsored by BGI Group, Vanke Group and Green Pine Capital, all enterprises headquartered in Shenzhen. In fighting COVID-19, the Mammoth Foundation has been helping Chinese hospitals to upgrade their testing laboratories, and making donations of testing kits to countries affected by the outbreak, as well as contributing key laboratory equipment to labs overseas.

Mr. Wang Shi, executive director of the Mammoth Foundation, said, "We are contributing support for testing laboratories to maximize early and accurate detection among large groups of people, so those who are not infected can have peace of mind and those who are infected can get timely treatment."

BGI Group, a leading genomics company headquartered in Shenzhen, has a long-standing relationship with many research and healthcare institutions in Canada. BGI Genomics, part of BGI Group focused on sequencing service and diagnostics, established a genomic sequencing laboratory in Montreal in 2019. MGI, that manufactures sequencers and laboratory automation, has also established a local presence to better support Canadian customers.

On May 4, BGI announced its Real-Time Fluorescent RT-PCR Kit for Detecting SARS-CoV-2 received Health Canada approval for importing and commercial distribution in Canada under the Interim Order. BGI has had a productive collaboration with Sinai Health since 2017, including a biomarker study with the Lunenfeld-Tanenbaum Research Institute for preterm birth risk funded by Genome Canada.

BGI's RT PCR testing kit for SARS-CoV-2, which has received emergency approvals from global regulatory agencies including the US FDA and most recently received Emergency Use Listing by WHO, has been distributed to more than 80 countries, and more than 20 million tests have been shipped.

BGI also provides an emergency COVID-19 detection lab called Huo-Yan Laboratory, with P2 level biosafety protection and automation robots that can be quickly deployed around the world. The first Huo-Yan lab was built in Wuhan in February in one week, providing testing capability of up to 20,000 samples per day. Such labs have since been built in UAE, Brunei, Serbia and Australia. The name Huo-Yan or "Fire Eye" comes from Chinese mythology and signifies the ability to see disguised threats that lurk ahead – in this case to prevent missing undetected viral infections.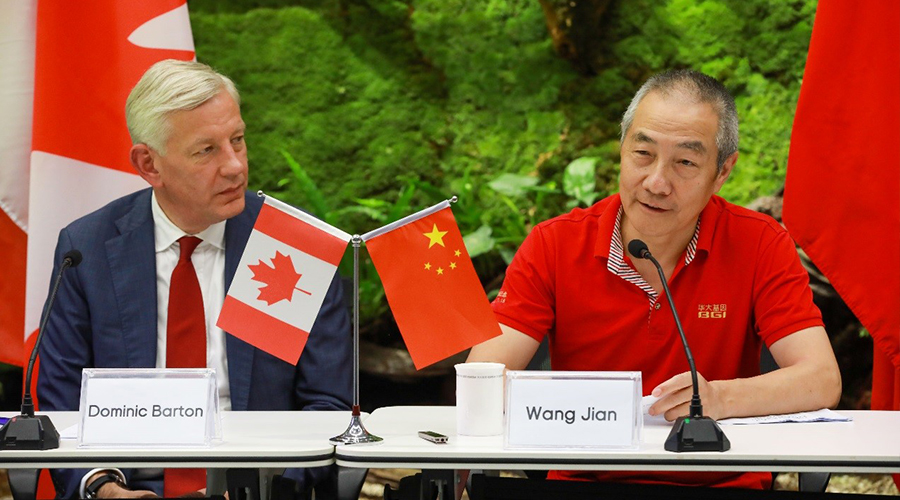 Ambassador Dominic Barton and BGI Chairman Wang Jian at the signing ceremony in Shenzhen. (Photo: BGI)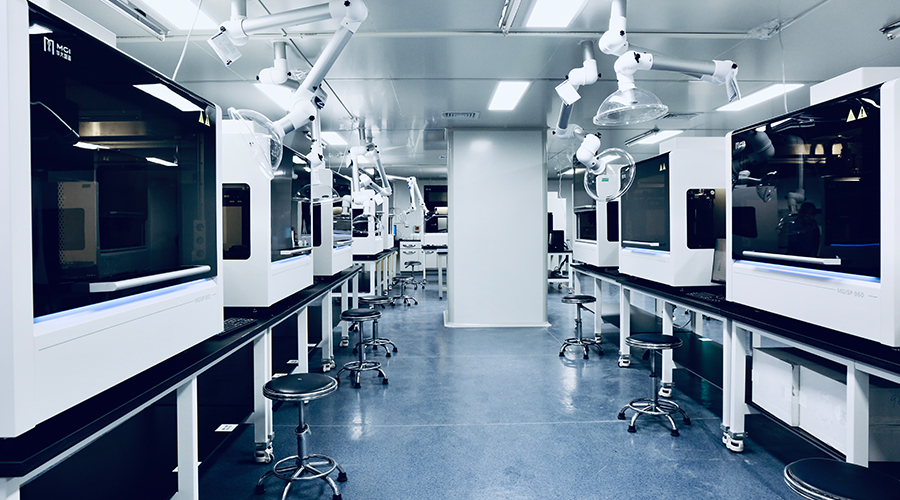 The Huo-Yan Laboratory in Wuhan (Photo: BGI)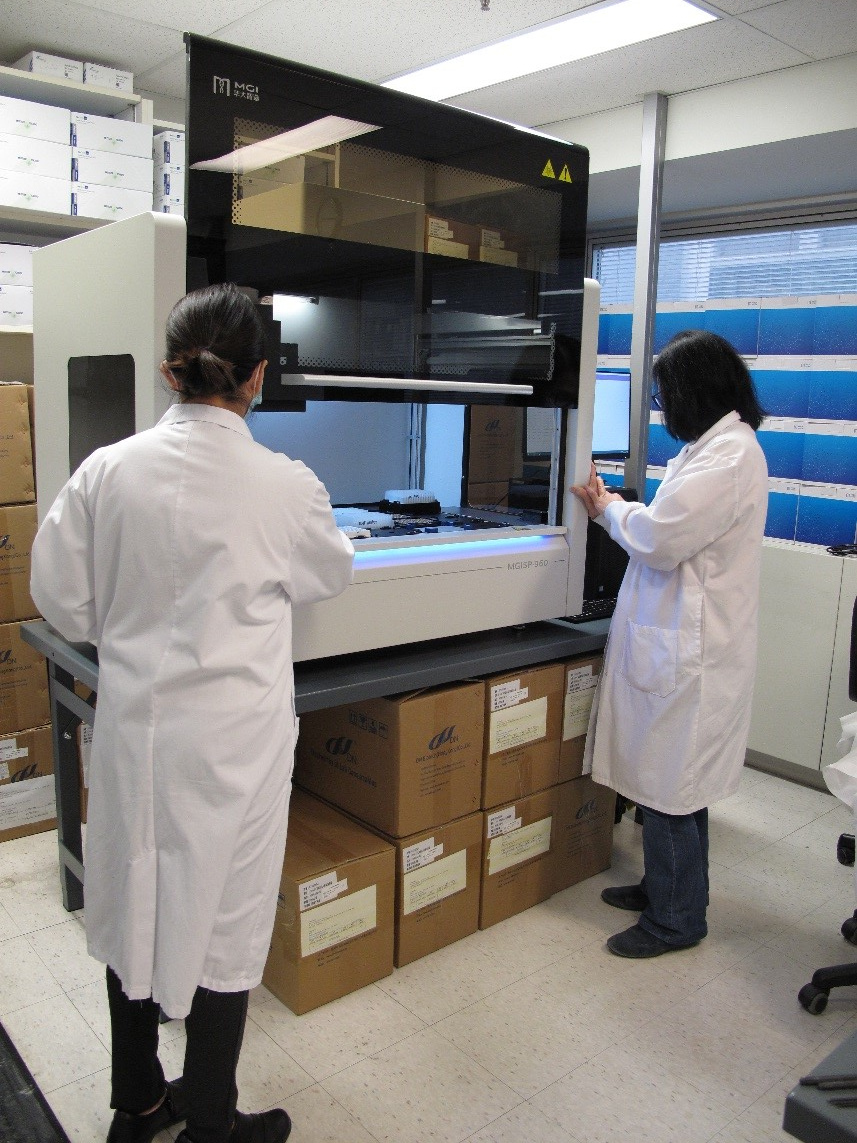 Technicians with MGISP-960 automated sample preparation and liquid handling systemat Mount Sinai Hospital Microbiology lab (Photo:MGI)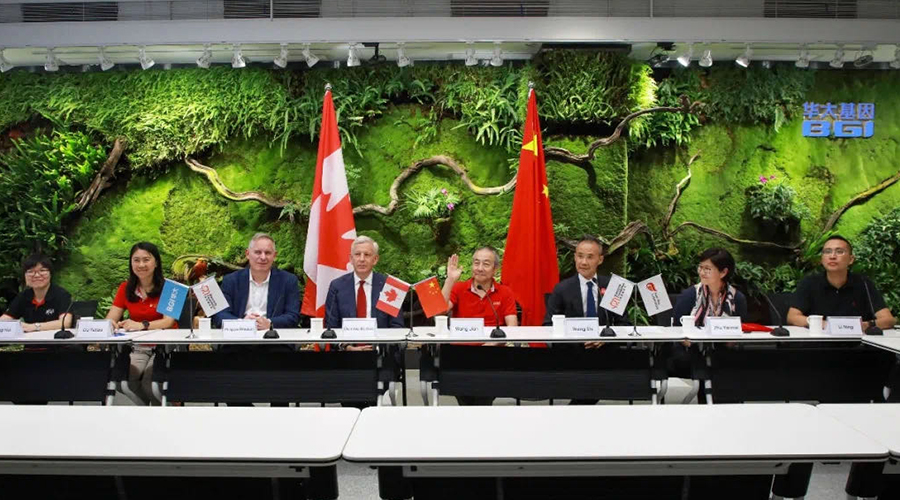 Representatives from BGI, the Embassy of Canada in China and Mammoth Foundation at the signing ceremony in Shenzhen. (Photo: BGI)