The cultivation of perennial rice has been named by Science as one of the top 10 scientific developments of 2022, becoming the only Chinese project to be featured in the leading journal's annual listing.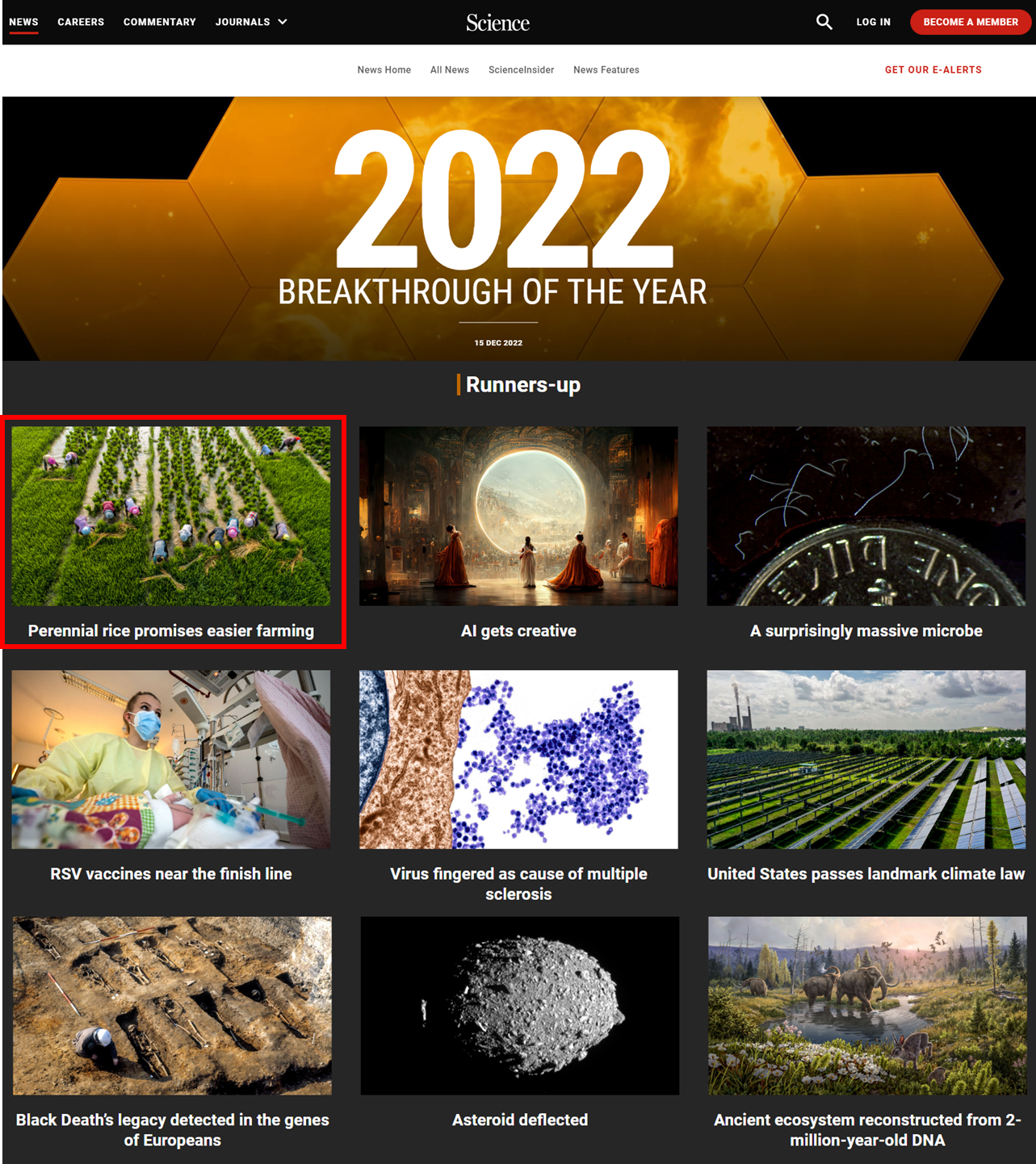 Perennial rice is selected as Science's 2022 Breakthrough of the Year runners-up. (Credit: Science)
Each year, Science publishes its list of the top 10 scientific breakthroughs of the year, the most important scientific discoveries, developments and trends. This year, the James Webb Space Telescope was selected as the breakthrough of the year, and perennial rice was listed as one of the nine runners-up.
In naming perennial rice as a top scientific breakthrough, Science noted the challenges the world currently faces with major food crops such as rice, wheat, and corn, having to be replanted every season. This not only causes a lot of work for farmers but also contributes to environmental problems such as soil erosion.
While breeding perennial grains that are both long living and productive is not easy, "this year, researchers in China showed perennial rice can meet those benchmarks and save farmers many weeks of backbreaking labor," the journal noted.
BGI Bioverse, a subsidiary of BGI Group, is working with China's Yunnan University to help promote the technology and development of perennial rice, which provides easier farming, helps reduce the intensive labor tasks of farmers while lowering their costs of production.
The crop, Perennial Rice 23 (PR23), can be planted once and harvested continuously for 3-5 years. From the second year (or second season), farmers do not need to buy seeds, and intensive labor tasks such as transplanting young rice seedlings into a paddy can be eliminated. "Skipping this step, thanks to the perennial rice, reduced the amount of work per hectare by as much as 77 person-days each season, and helped lower farmers' costs by half," Science noted.
PR23 is a rice variety originally bred by the team of Professor Hu Fengyi of Yunnan University by crossing a domesticated annual Asian rice (Oryza sativa) with its perennial African relative (Oryza longistaminata). Improving the yield and quality PR23 took more than two decades. In 2018, PR23 was released to farmers in China to help determine how many times the rice could be harvested and what yields would result.
From a single planting, irrigated perennial rice produced grain for eight consecutive harvests over four years, averaging 6.8 tons of rice per hectare versus the 6.7 tons of replanted annual rice, which required additional labor and seed. This result was reported by the research team in Nature Sustainability last month.
Since last year, BGI Bioverse has been working with Yunnan University to promote the perennial rice technology and industrial development. To date, 117 locations across 13 major rice-growing provinces in China have carried out trial plantings of perennial rice. Overseas, scientific research institutions from African and Southeast Asian countries are also cooperating with Yunnan University and BGI Bioverse on joint development of perennial rice.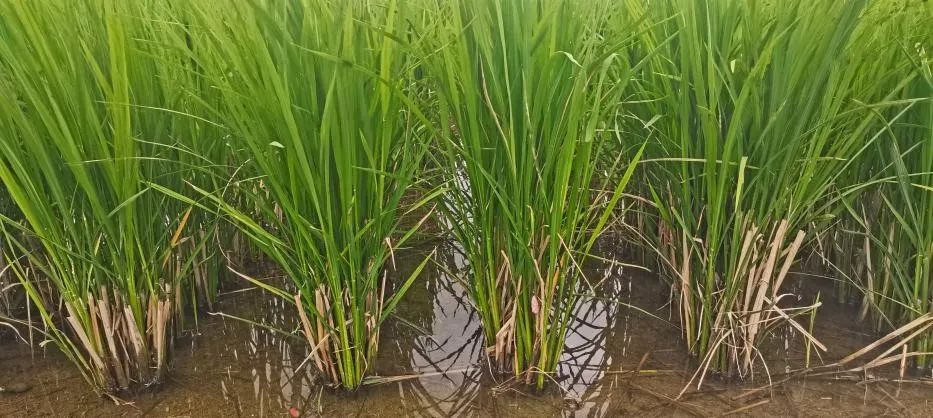 Perennial rice planted in a paddy.
Currently, perennial rice is the world's only commercially available perennial food crop. In September, China's Ministry of Agriculture and Rural Affairs recommended perennial rice as a leading rice variety and it is also included in the Sustainable Rice Production System by the Food and Agriculture Organization of the United Nations.
In addition to perennial rice, some of the other 2022 runners-up include the discovery of a giant bacterium 5,000 times larger than many known bacteria, the discovery of a virus that may cause multiple sclerosis, new insights into how the Black Death changed the genes of Europeans, and the reconstruction of an ancient ecosystem from two-million-year-old DNA.
Source:
https://www.science.org/content/article/breakthrough-2022#section_breakthrough
https://www.science.org/content/article/perennial-rice-saves-time-and-money-comes-risks
https://www.scmp.com/news/china/science/article/3203184/why-small-chinese-farmers-are-warming-new-variety-rice
https://www.fao.org/agroecology/database/detail/en/c/1142613/