Researchers from Peking University and BGI-Research have developed a new mobile and self-sustained DNA data storage system, which supports dual-mode storage, dynamic data maintenance, fast information retrieval, and robust data recovery. This research was published in Advanced Science on February 3, 2023.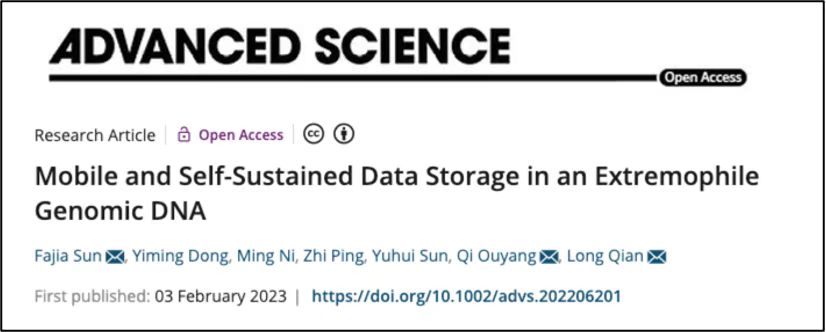 Mobile and Self-Sustained Data Storage in an Extremophile Genomic DNA Published in Advanced Science
For this study, researchers developed a versatile genetic toolbox named RSGE that integrates synthetic DNA sequences containing data into a halophilic bacterium, Halomonas bluephagenesis. The toolbox's versatility was also proved by successfully integrating DNA sequences into another genus of bacterium that is distant from Halomonas bluephagenesis on the molecular evolutionary tree.
The study shows that over 100 days when the halophilic bacteria had split to the 2,000th generation, no data-contained DNA sequence had been lost or reconstructed and with only a small number of changes to some nucleotide bases (point mutations). Even after being stored in a common household refrigerator at a degree of -20°C for more than a year, the bacteria strains survived and grew again under suitable conditions, and the data-contained DNA sequences in it remained intact. This shows RSGE can support two modes of storage, an active mode for data regeneration and a dormant mode for long-term storage.
Selecting the halophilic bacterium as the data carrier was also a highlight of the study. Due to its halophilic characteristics, Halomonas bluephagenesis is naturally resistant to biological contamination. Its spontaneous replication and division make up for the loss of bacteria used for data retrieval, which ensures the multiple-time distribution and retrieval of data without the exhaustion of DNA sequences. These characteristics make Halomonas bluephagenesis an ideal medium for DNA data storage for common household and outdoor environments without relying on professional equipment or technician.
Researchers have also created a new error correction decoding algorithm to address the high error rate problem in the data retrieving process.
"This study develops a new mobile DNA data storage system to complement the current mainstream solution in specific application scenarios, which allows operations such as copying, distributing, and reading of the data stored in DNA in some context, without the need of professionals or complex equipment," said Dr. Zhi Ping, co-author and the chief scientist of DNA data storage program at BGI-Research, "by combining centralized and distributed storage, in the future, the world will establish a complete DNA data storage ecosystem for various types of data."
The data that support the findings of this study are freely accessible:
https://onlinelibrary.wiley.com/doi/full/10.1002/advs.202206201