Recently, Research.com, an internationally renowned academic platform, released the 2023 ranking of the world's best scientists. In the field of genetics, Yang Huanming, Co-founder of BGI Group, ranked 172nd in the world and 4th in China; Xu Xun, Director of BGI-Research, ranked 347th in the world and 5th in China; Fang Xiaodong, Deputy Director of BGI-Research, ranked 2818th in the world and 69th in China.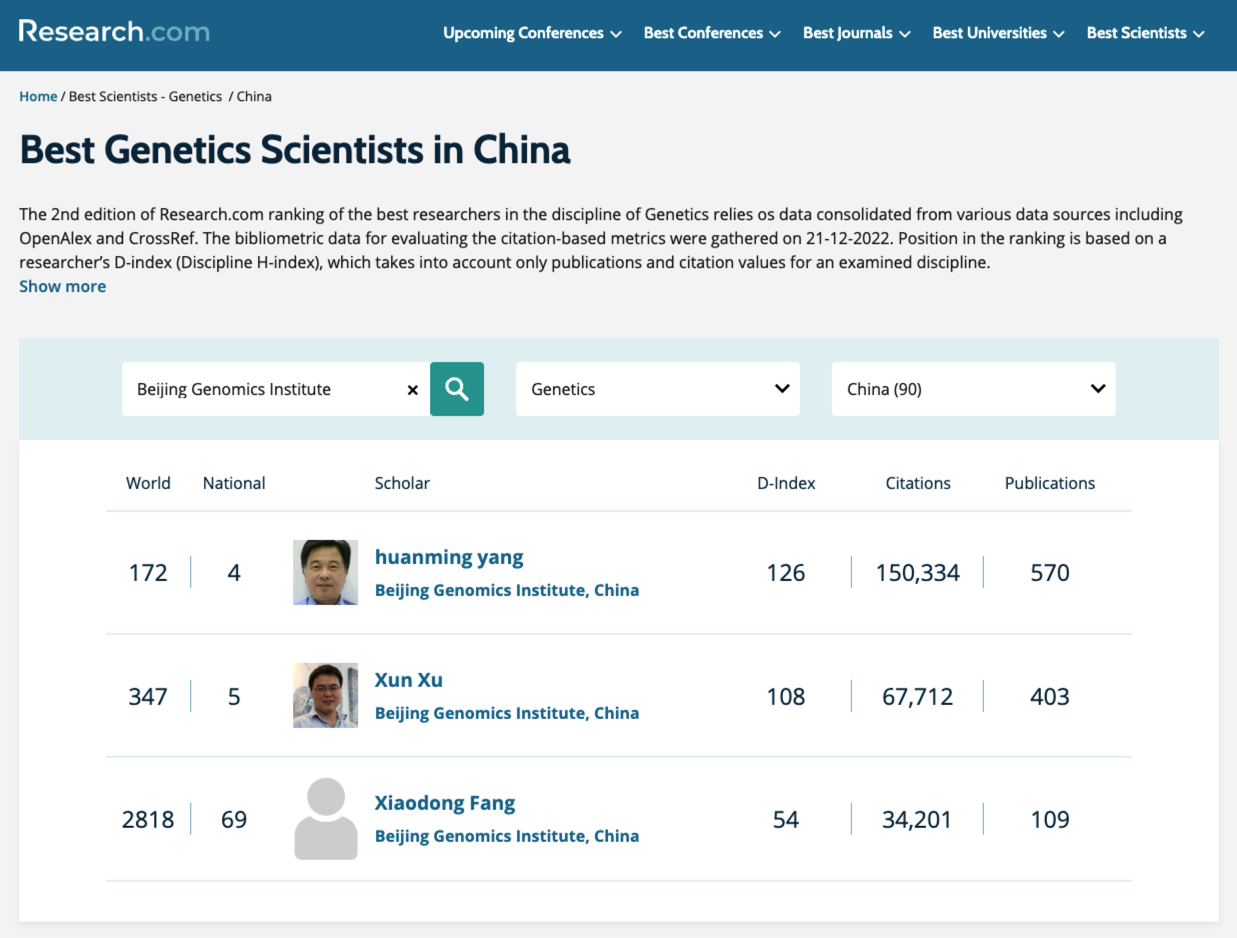 Research.com is one of the world's leading academic research portals. The ranking uses the D-index (Discipline H-index) which only takes into account publications and citation values for a specific discipline, and the data used to estimate citations was as of December 21, 2022.
For the field of genetics, Research.com analyzed as many as 5,724 researchers using various data sources including OpenAlex and CrossRef. The inclusion of two BGI scholars in the 2023 "Best Scientists in the World" ranking demonstrates the importance of BGI's academic research contributions in the field of genetics and the impact these have on the work of other scientists.
Since its establishment, BGI Group has been deeply involved in the field of life sciences and has continuously produced important scientific research. As of February 2023, BGI Group has published a total of 4,505 papers, with a total of 498,964 citations. Among them, 516 articles were published in CNNS (Nature and its sub-journals, Science and its sub-journals, Cell and its sub-journals, and New England Journal of Medicine), in spatio-temporal omics, single-cell omics, organ regeneration, brain science. Important breakthroughs have also been made in scientific research fields such as animals and plants.
BGI researchers have received many honors for their research. In April this year, four BGI researchers, Wang Jian, Yang Huanming, Xu Xun and Li Bo, were named Elsevier Highly Cited Chinese Researchers for 2022.
Learn more about the ranking: https://research.com/scientists-rankings/genetics/cn