Shenzhen, June 28, 2023 – BGI has made significant progress in the 2023 Nature Index ranking, further establishing itself as a prominent player in the field of biological sciences (formerly referred to as life sciences in the Nature Index) research. With a rise of three places from the previous year, BGI now holds the 5th position among corporate institutions worldwide and is the sole Chinese corporate institution in the top 10. Additionally, BGI has maintained its leading position as the foremost corporate institution for biological sciences research in the Asia Pacific region for the eighth consecutive year since the incorporation of corporate research initiatives into the Nature Index in 2015.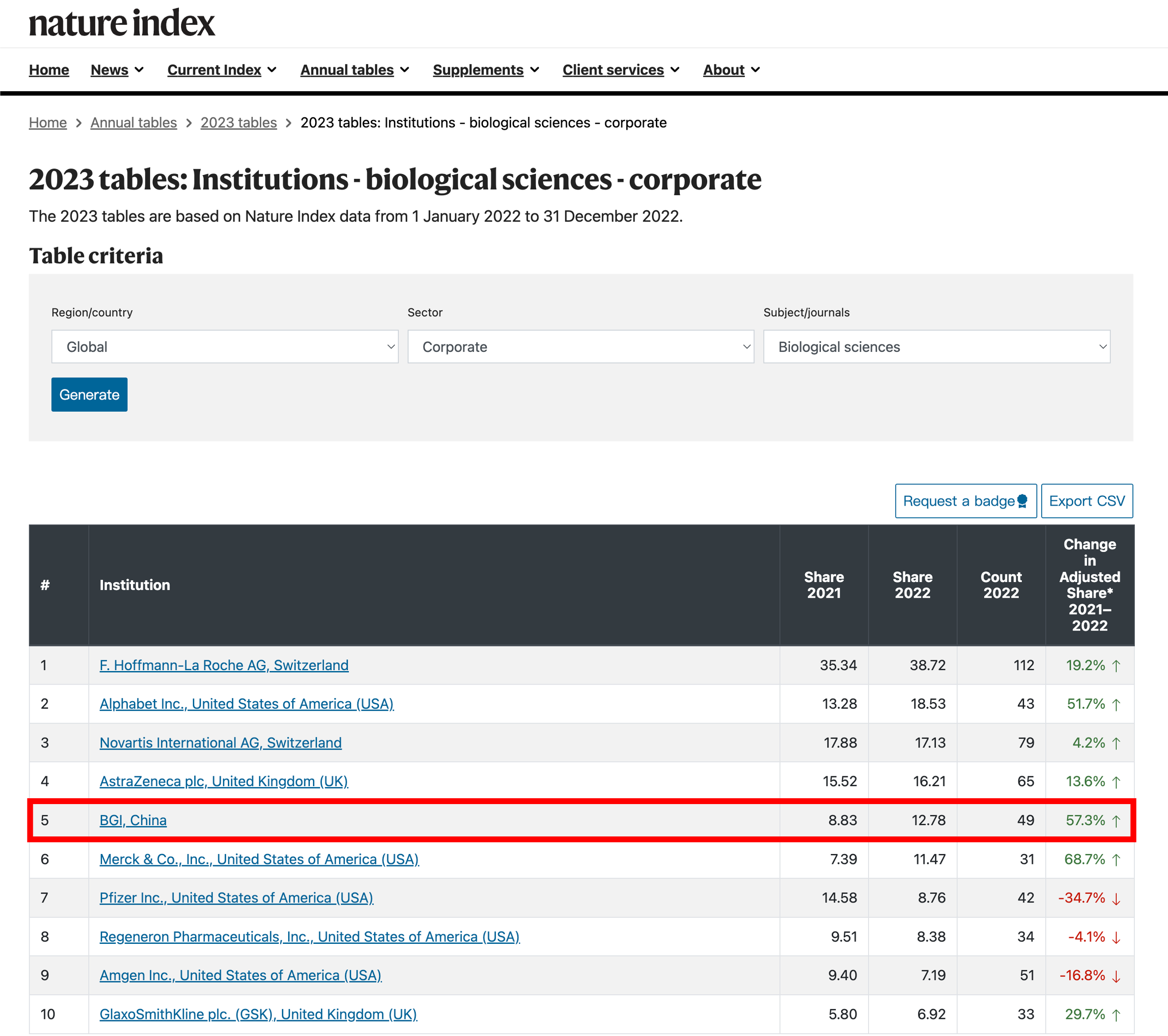 In the 2023 Nature Index, BGI has achieved a notable milestone by securing the first position among biological sciences corporations in the Asia-Pacific region and an esteemed 5th position globally.
The Nature Index serves as an annual global benchmark for high-quality research and tracks contributions to research articles published in 82 esteemed natural science journals and 64 health-science journals, the latter of which were newly incorporated into the Index in 2023. All journals have been carefully selected based on their reputation by an independent panel of leading scientists in their respective fields.

During the period covered by the 2023 Nature Index, which corresponds to the calendar year 2022, BGI published 51 articles in renowned CNNS publications (Nature and its sub-journals, Science and its sub-journals, Cell and its sub-journals, and New England Journal of Medicine). As of June 26, 2023, BGI has published a total of 4,628 research articles, including 527 articles in CNNS; BGI-Research, as a core research facility of the BGI Group, has made significant contributions to the sequencing of over 41% of animal genomes and 39% of plant genomes on a global scale.
In March 2022, a groundbreaking study was published in Nature by scientists from BGI-Research and their collaborative partners. The study unveiled a remarkable advancement in stem cell research, introducing a transgene-free, rapid, and controllable method to transform pluripotent stem cells into fully-developed 8-cell totipotent embryo-like cells. This groundbreaking discovery opens up new avenues for advancements in organ regeneration and synthetic biology, promising significant breakthroughs in these fields.
In April, an international team of researchers from BGI-Research, along with scientific research teams from China, Germany, Italy, Singapore, Spain, Sweden, and the UK, achieved a major scientific milestone. Their collective efforts led to the publication of the world's first comprehensive non-human primate whole-body cell transcriptomic atlas in Nature. This remarkable feat has the potential to revolutionize the treatment of human diseases by providing invaluable insights into the cellular mechanisms underlying various conditions.
In May, a group of international scientists, spearheaded by BGI-Research, published state-of-the-art panoramic spatial atlases of life, offering a comprehensive examination of cellular dynamics at different stages of development, shedding light on key aspects of disease treatment, development, aging, and biological evolution. One paper was published in Cell, and other three studies were published in Developmental Cell.
In September, BGI-Research led a multi-institute research team to construct the world's first spatiotemporal cellular atlas of the axolotl (Ambystoma mexicanum) brain development and regeneration using BGI's Stereo-seq technology. This study, which sheds light on the self-healing capabilities of a brain injury, was featured as the cover story in Science.
Following the success of 2022, BGI's endeavors continue in 2023. In March, a collaborative effort involving researchers from China, Denmark, Australia, Italy, and Germany, representing BGI-Research and other institutions made a remarkable breakthrough in unraveling the mystery of the Antarctic krill's enormous repetitive genome, its adaptation to the Antarctic environment over time, and its impact on the local ecosystem. The study was published as a cover story in Cell.
Most recently in June, a global team of researchers from BGI-Research and other international institutions conducted the largest-ever study of primates. Through comparative research on the genome data of 50 species of primates from 14 families and 38 genera, this study provides a profound understanding of the evolutionary process of primates, signifying a significant advancement in scientific knowledge related to human health, conservation biology, and behavioral science. The results of this study were reflected in eight papers published in Science as part of a special research issue, two papers published in Science Advances, and one paper published in Nature Ecology & Evolution.
In addition to the achievement made in science research, four researchers from the BGI Group were announced as Highly Cited Chinese Researchers for 2022 by Elsevier, a global publisher and leader in information and analytics. In the Biology Category, three BGI researchers received this honor: Wang Jian, Co-founder and Chairman of the Board of Directors of BGI Group; Yang Huanming, Co-founder and Member of the Board of Directors of BGI Group and Director-General of BGI; and Xu Xun, Executive Director of BGI Group and Director of BGI-Research. Li Bo, CEO of GenoImmune Therapeutics Biotech Ltd., a company within the BGI Group, was recognized in the Clinical Medicine Category.
For more information, please refer to the 2023 Nature Index:
Global Biological Sciences:
https://www.nature.com/nature-index/annual-tables/2023/institution/corporate/biological-sciences/global
Asia Pacific Biological Sciences:
https://www.nature.com/nature-index/annual-tables/2023/institution/corporate/biological-sciences/regions-Asia%20Pacific