What is greater than the mind of a human being? The answer is two or more.
Since its emergence, scientific research has never been just a one-man job. By working together, scientists can combine their unique perspectives and skills to make groundbreaking discoveries and advancements. This collaborative approach helps us gain a deeper understanding of ourselves, our world, and the universe beyond.
In fact, BGI was founded to participate in one of the greatest global scientific collaborations that shaped the history of mankind.
As one of the three scientific projects that dominated the 20th Century, the Human Genome Project (HGP) was a global research effort that aimed to map and sequence the entire human genome. This ambitious project was launched in 1990, creating a profound impact on our understanding of genetics and paving the way for new breakthroughs in medicine and biotechnology.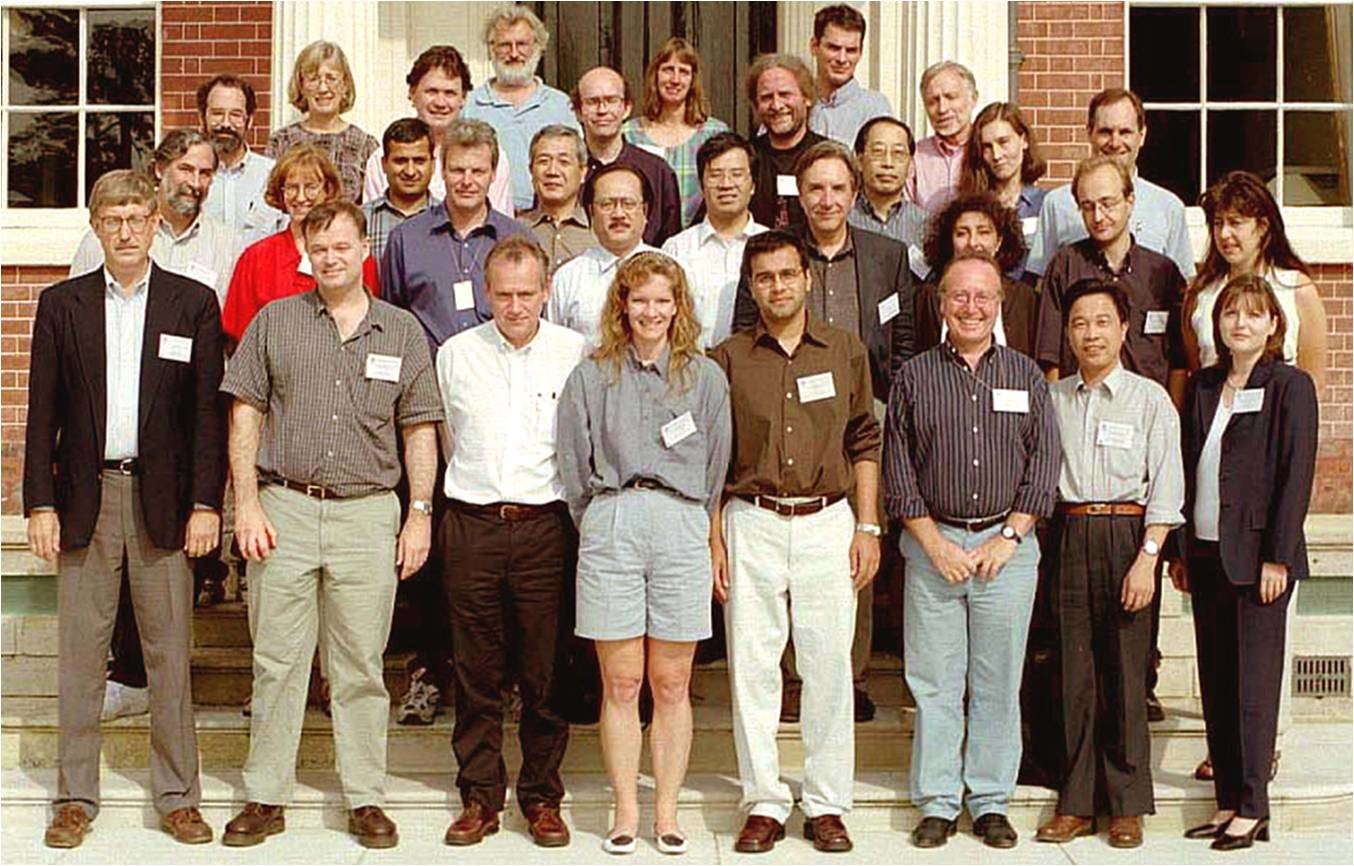 Dr. Yang Huanming, Co-founder, Director and Chairman of BGI Group (second from right, first row) at the 5th Strategic Meeting of the International Human Genome Sequencing Consortium, August 31, 1999, Hinxton, UK.

The HGP involved scientists from 20 institutions from the United States, Britain, France, Japan, Germany, and China. China was committed to sequencing, assembling, and analyzing a region of approximately 30 cM (centimorgan, a unit of "genetic unit" measuring the size of a genome) on the tip of the short arm of chromosome 3, which was then estimated to account for about 1% of the entire human genome. Thus, this became known as the "1% Project", or the "Chinese [China] Chapter of the Human Genome Sequence".
BGI was formed to be a part of the HGP, contributing to the sequencing of genes and working alongside scientists from six countries. BGI was one of the major sequencing centers involved in the project and contributed to the sequencing of several key regions of the human genome.
On February 15, 2001, Nature published in a 62-page cover article a draft of the human genome with more than 90% of the DNA base pairs in the human body having been sequenced. The ultimate promise of the HGP was to improve human life, moving from understanding the biology of disease to diagnosis, treatment, and even prevention.
The HGP was concluded in 2003, covering approximately 92% of the entire human genome sequence. Since then, advancements in laboratory tools, computational methods, and strategic approaches have been made. The complete human genome sequence was published in a set of six papers in the April 1, 2022 issue of Science, with companion papers published in various other journals.
On April 12, 2023, the 18th Annual Meeting of the International Conference on Genomics (ICG-18) began in Zhangjiajie to commemorate the 25th anniversary of the preparatory meeting of the China Chapter of the HGP and the 20th anniversary of the HGP's completion.
The Earth BioGenome Project (EBP) is a decade-long initiative launched in 2018 that aims to sequence the genomes of all eukaryotic species on Earth, estimated to be around 1.5 million species. An important first achievement of the EBP project was the establishment of global international standards to define the project, which originated from the Biodiversity Conference held in the United States in 2018. BGI scientists Yang Huanming, Xu Xun, and researchers from other institutes proposed the concept of a global biological genome for the first time.
The EBP project has grown significantly since its launch and as of December 2021, it has involved 5,000 scientists and technical staff at 44 member institutions across 22 countries, covering every continent except Antarctica. The project team has improved the overall organization and management system, established international exchange organizations, including sample collection centers, genomic technology centers, affiliated special program centers, and formulated a number of standards and specifications covering project participation, data sharing, intellectual property acquisition, and sharing.
BGI-Research and the China National GeneBank are heavily involved in one of the largest projects within the EBP, the 10,000 Plant Genomes Project (10KP), which aims to sequence more than 10,000 plant species. In 2021 alone, BGI-Research, a core research arm of BGI Group, completed the genome sequencing and assembly of over 1,000 species and published them in globally renowned academic journals such as Nature, Nature Communications, PNAS, Molecular Plant, and Science Bulletin. Together with other large-scale plant genome projects led by scientists from the US and UK, the project anticipates to sequence all the estimated 450,000 to 500,000 species of green plants.
The EBP is a massive undertaking that requires significant resources and collaboration from scientists and institutions worldwide. Its success will generate valuable data and insights into various aspects of biology, including evolution, biodiversity, and ecology, and will have a profound impact on our understanding of life on Earth.
The SpatioTemporal Omics Consortium (STOC) is the latest effort in science, established as an open collaborative research initiative to unite, organize, advance, and share global scientific efforts in spatiotemporal omics to solve the mysteries of life. STOC's mission is to map the spatiotemporal multi-omic atlases of organisms and to develop analytical tools to gain novel biological insights across physiology, development and aging, disease, and evolution.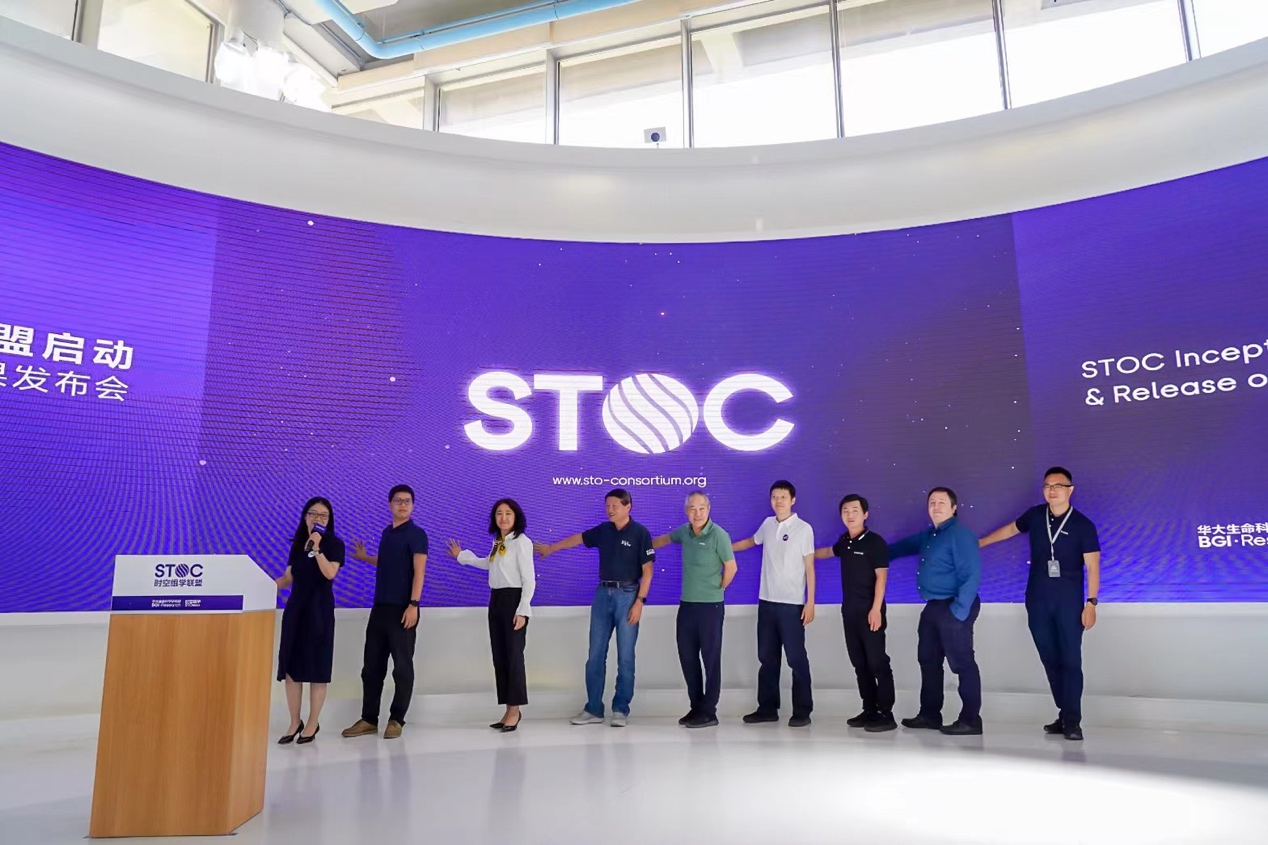 The launch ceremony of the SpatioTemporal Omics Consortium (STOC), May 5, 2022.

Over 190 scientists from 30 countries, including renowned institutions such as Harvard University, Oxford University, Massachusetts Institute of Technology, University of Cambridge, the Karolinska Institutet, the University of Western Australia, the Genome Institute of Singapore, and BGI, have collaborated as part of STOC.
In May 2022, international scientists led by China's BGI-Research published state-of-the-art panoramic spatial atlases of life, examining the cellular dynamics of organisms at different developmental stages and providing potentially significant new information for disease treatment, development and aging, and an improved understanding of biological evolution. STOC members used Stereo-seq, a spatially resolved transcriptomics technology developed by BGI-Research, to produce spatiotemporal cellular maps of mice, small fruit flies (Drosophila), zebrafish, and the Arabidopsis plant. The studies were published in Cell Press journals and demonstrate Stereo-seq's major breakthrough in spatial resolution and panoramic field of view, enabling analysis of the distribution and placement of molecules and cells in situ and over time.
Furthermore, STOC members also applied the technology to produce the world's first spatiotemporal map of brain regeneration of axolotl and the world's first multi-omics cell map of the cerebral cortex of macaques. These groundbreaking studies were published in Science and Nature Communications, respectively.
In addition to the global scientific collaborations, BGI Group also engaged in partnerships with regional institutes for science research.
In Africa, BGI Group's involvement in the African Orphan Crops Consortium (AOCC) is one of its most significant projects, aiming to provide guidance for the production of more crop varieties with high nutritional value. Through its partnership with the African Union-New Partnership for Africa's Development (AU-NEPAD), Mars Inc., and the World Agroforestry Center, BGI has completed genome sequencing, assembly, and annotation of over 100 traditional African crops. The AOCC project has not only enabled the discovery of new crop varieties but also helped preserve traditional African crops at risk of extinction. The genomic information produced by the AOCC alliance network is publicly available for use by plant breeders and other crop scientists to create high-nutrition, high-yielding, and robust crop varieties, ultimately released to farmers for cultivation. As of March 2022, BGI has completed the genome analysis of 10 African orphan crops, while more are in progress.
In the Middle East, In September 2021, a new advanced genomics research facility was inaugurated at the headquarters of the International Center for Biosaline Agriculture (ICBA) in the United Arab Emirates to further research on healthier, more nutritious, and resilient crops for sustainable food systems. The Desert Life Science Laboratory (DLSL), a joint venture between ICBA and BGI Group, will help fast-track the discovery and development of food and crops suited to marginal environments. The lab is equipped with a high-throughput sequencer, which will facilitate the breeding of improved crop varieties suitable for local conditions and more resource-efficient, molecular characterization and genomic analysis of plant genetic resources, and capacity development for scientists, specialists, and students in genomic research in the United Arab Emirates and abroad. The establishment of the DLSL is in line with the shared objective of addressing global challenges such as hunger and poverty through the use of cutting-edge science and technology.
Currently, the DLSL has undertaken genomic research cooperation projects on local characteristic crops such as quinoa, date palm, and samphire (Salicornia europaea). Over 200 germplasm resources have been fully sequenced, generating 3TB of data, providing basic support for the cultivation of salt-alkali tolerant crops, and playing an important role in promoting local desert agriculture. BGI Group has trained two genomics technology researchers for the DLSL and established a genomics research technology platform from scratch.
In Asia, BGI Group and the International Crops Research Institute for the Semi-Arid Tropics (ICRISAT) signed a Memorandum of Understanding in 2012 to collaborate on applied genomics research and molecular breeding, aiming to enhance the precision of breeding programs for semi-arid tropic crops using cutting-edge sequencing technologies for sustainable food production in Asia and sub-Saharan Africa. The partnership is crucial for developing improved crop varieties that can provide high yields while meeting the challenges of marginal environments, climate change, and scarce natural resources.
In November 2022, an international team led by ICRISAT and participated by BGI-Research reported the sequencing of 3,366 chickpea genomes, representing the largest effort of its kind for crops. The study revealed that chickpea was cultivated from its wild progenitor species, Cicer reticulatum, around 12,600 years ago, with a revival noted around 400 years ago after a breeding bottleneck that lasted until about 1,000 years ago.
In 2022, Wang Jian, Co-founder and Chairman of BGI Group, and Xu Xun, Director of BGI-Research, led a team that visited 24 countries and regions, including Singapore, Australia, and Indonesia. During their trip, they visited 35 top universities and research institutions, such as the National University of Singapore, Oxford University, and Cambridge University. The purpose of their visits was to discuss scientific research cooperation related to Spatio-temporal omics technology in various fields such as brain science, disease, species development, and the origins of life. The team was able to reach agreements with these institutions, which was a significant step forward for the global expansion of the international Spatio-temporal omics mega-science project.
Global science cooperation enables the sharing of knowledge and expertise, promotes cultural exchange, and fosters international development. It is essential for tackling global issues such as climate change, pandemics, and food security, which require global solutions. BGI Group and institutions from different countries are working together towards a common goal, pooling their resources and knowledge to solve complex problems that cannot be tackled by a single country or institution alone. This is what "Omics for All" truly stands for.