On November 15th, Clarivate Analytics released the Highly Cited Researchers list for 2023 which includes four distinguished researchers from BGI Group: Wang Jian, Co-founder and Chairman of the Board of Directors of BGI Group; Yang Huanming, Co-founder and Member of the Board of Directors of BGI Group, Director-General of BGI; Xu Xun, Executive Director of BGI Group, Director of BGI-Research; and Liu Xin, Senior Vice President of BGI-Research.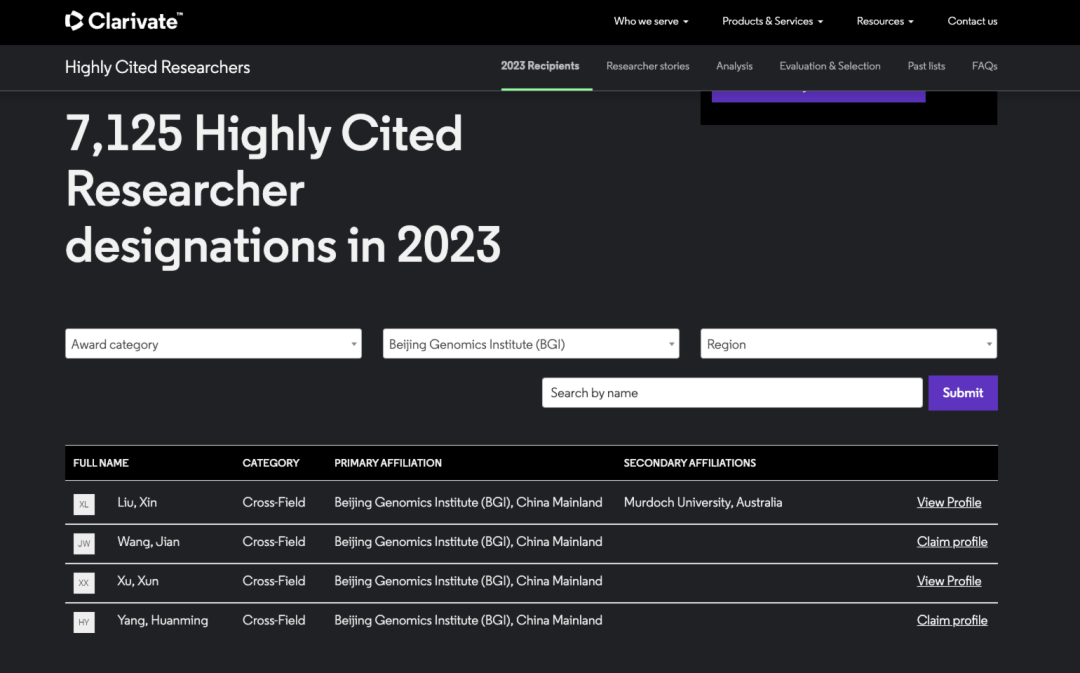 Four distinguished researchers from BGI Group are named as 2023's Clarivate Highly Cited Researchers.
In 2023, Clarivate announced a total of 7,125 Highly Cited Researcher designations, awarded to 6,849 individuals from over 1,300 institutions across 67 countries and regions. The Highly Cited Researchers list from Clarivate annually recognizes the world's most influential researchers in the sciences and social sciences. Among the world's population of scientists and social scientists, Highly Cited Researchers account for 1 in 1,000 researchers.

Bar Veinstein, President of Academia & Government at Clarivate, said: "We celebrate the Highly Cited Researchers whose contributions transform our world by helping to make it healthier, more sustainable and more secure. Recognition of Highly Cited Researchers not only validates research excellence but also enhances reputation, fosters collaboration, and informs resource allocation, acting as a beacon for academic institutions and commercial organizations."
BGI researchers have been selected for Clarivate's annual Highly Cited Researchers list for nine consecutive years since 2015. Previously, BGI Group researchers were also named Elsevier Highly Cited Chinese Researchers 2022. These are both strong recognitions from global leading academic institutions for BGI's research strength and academic influence in the field of life sciences.
As of October 2023, BGI has published 4,789 research papers, including 555 in the world's leading journals Cell, Nature, Science, and their sub-journals, as well as New England Journal of Medicine. These achievements witness BGI's significant breakthroughs in scientific frontiers such as spatial-temporal omics, single-cell omics, organ regeneration, brain science, and animals and plants studies.
In the 2023 Nature Index, BGI made significant progress by holding the 5th position among biological sciences corporate institutions worldwide and is the sole Chinese corporate institution in the top 10. Additionally, BGI has maintained its leading position as the foremost corporate institution for biological sciences research in the Asia Pacific region for the eighth consecutive year since the incorporation of corporate research initiatives into the Nature Index in 2015.
Clarivate's full list can be found here: https://clarivate.com/highly-cited-researchers/