On October 7, 2022, researchers from BGI-Research and the Chinese Academy of Sciences have established for the first time that the genetic make-up of the plant – its genotype -- determines the phenotypic, or environmental, consequences of root-associated microbiota in foxtail millet. This information will enable researchers to improve the yield and quality of the crop.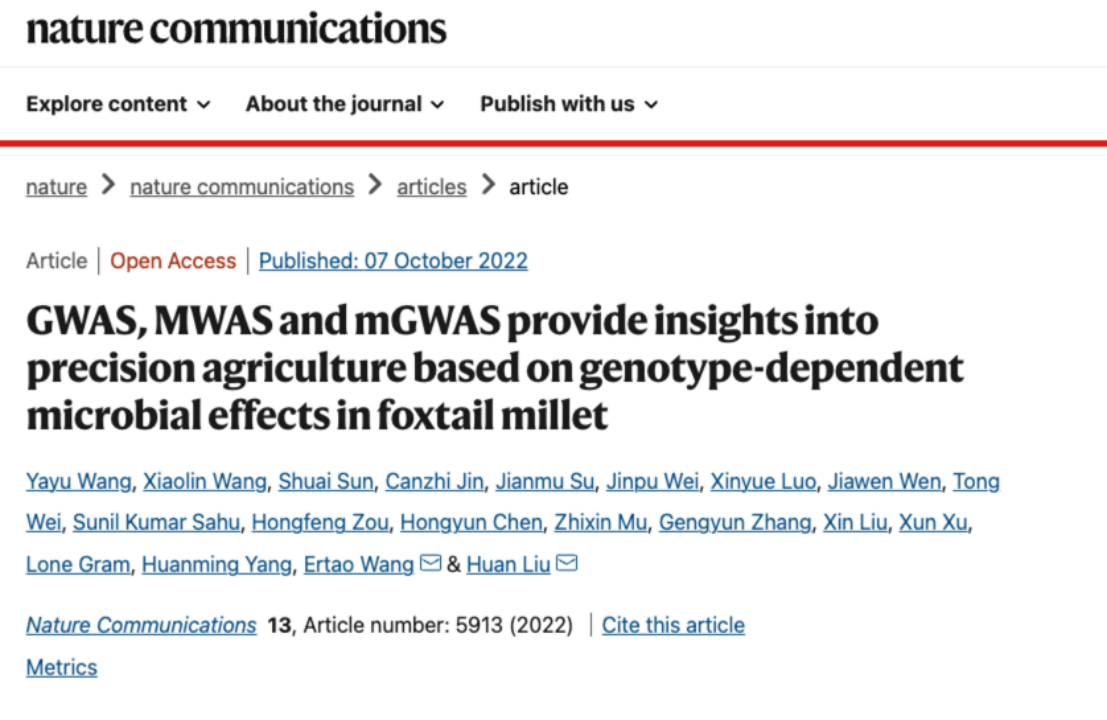 BGI-led research on foxtail millet, GWAS, MWAS and mGWAS provide insights into precision agriculture based on genotype-dependent microbial effects in foxtail millet, published on Nature Communication.
Foxtail millet (Setaria italica) is an important regional crop in arid and semi-arid parts of the world. As well as being an important cereal crop which is drought resistance, with high efficiency in water use yet with strong yield stability and requires less chemical fertilizers and pesticides. These characteristics have led millet to become an important strategic reserve crop and is critically needed to feed a growing world population.
China is a major producer of millet and its importance has led BGI to study foxtail millet since 2009, Millet genome sequencing, molecular marker development, genetic map construction and the location of important agronomic traits has led to the breeding of a number of herbicide-resistant varieties. However, despite genome-wide association studies scientists had not found the key gene locus that determines plant growth or yield of millet which would enable improvements in yield and quality through genetic engineering.
The latest study published today in Nature Communications, "GWAS, MWAS and mGWAS provide insights into precision agriculture based on genotype-dependent microbial effects in foxtail millet," solves this puzzle through studying the genomic variations, phenotypes and rhizoplane (external root surface) microbiota of 827 foxtail millet cultivars using an integrated Genome-Wide Association Study, Microbiome-Wide Association Studies and Microbiome Genome-Wide Association Studies.
Importantly, the study found that root microbes affect agronomic phenotypes in a host genotype-dependent manner. By regulating the microbial composition related to plant genotypes, the adaptability and growth of plants to the environment can be improved. This discovery will impact the optimization of agriculture and the researchers suggest that a "personalized feeding strategy" with precision microbial biofertilizers will be a key to develop high-yielding cultivars in the future.
"By researching the interaction between plant genotypes and root microorganisms we aim to improve the yield and quality of foxtail millet production. This will involve integrating DNA-level precision breeding with microbial ecological fertilizers, water, full-field management, precision seeding and other modern planting technologies," said Dr. Wang Yayu of BGI-Research and co-first author of the paper.
Read more about this research: https://www.nature.com/articles/s41467-022-33238-4