Wang Jian, BGI Group Co-Founder and Chairman, on 26th November met with Serbian officials including Prime Minister Ana Brnabić, Minister of Science, Technological Development and Innovation Jelena Begovic, and Minister of Health Danica Grujičić, to discuss cooperation in multiple areas. The meeting was also attended by the Chinese Ambassador to Serbia, Chen Bo.

Serbia Prime Minister, Ana Brnabić (third from right), Minister of Science, Technological Development and Innovation, Jelena Begovic (fourth from right), Chinese Ambassador to Serbia, Chen Bo (second from left) and BGI Group Co-founder and Chairman, Wang Jian (third from left).
Prime Minister Brnabić expressed her recognition and appreciation to BGI Group for helping to establish the first Genome Sequencing and Bioinformatics Center in Serbia. She welcomed BGI Group to participate in the construction of the BIO4 Campus in Serbia, and hoped to further strengthen cooperation with BGI Group to boost local bio-economy and improve the well-being of the Serbian people.
Both parties agreed to carry out in-depth cooperation in the fields of spatio-temporal omics, single-cell omics, synthetic biology, and bioinformatics, as well as precision medicine and disease prevention and control based on gene sequencing technology, and talent training in related fields.
As part of his visit to Belgrade, Wang Jian accompanied Ministers Jelena Begovic and Danica Grujičić, on a visit to see the Serbian "Huo-Yan" Laboratory and the Center for Genome Sequencing and Bioinformatics at the Institute of Molecular Genetics and Genetic Engineering (IMGGE) of the University of Belgrade.
The Huo-Yan testing laboratory in Belgrade was one of two Huo-Yan labs BGI built in Serbia in 2020 to assist the country in its fight against COVID-19. The Huo-Yan laboratory is an integrated solution, providing SARS-CoV-2 detection technology, antibody detection and high-throughput sequencing technology. The Huo-Yan laboratories in Serbia helped raise COVID-19 testing capacity by 3,000 tests per day, an essential boost in the year 2020.
As part of its response to the COVID-19 crisis, BGI installed more than 100 Huo-Yan Laboratories in more than 30 countries and region, vastly expanding daily testing capacity as a critical component of COVID-19 detection.
In February 2021, President Aleksandar Vucic of Serbia honored BGI Group with the Order of the Serbian Flag, First Class, to recognize its assistance in Serbia's fight against COVID-19.
The Center for Genome Sequencing and Bioinformatics aims to promote biotechnology and bioeconomy in Serbia, and carries out precision medical services based on gene sequencing, such as genetic disease screening, cancer screening, and prevention and control of infectious diseases. It also supports sequencing applications and data analysis in the fields of scientific research, clinical research, disease control, biopharmaceuticals, environment, and agriculture.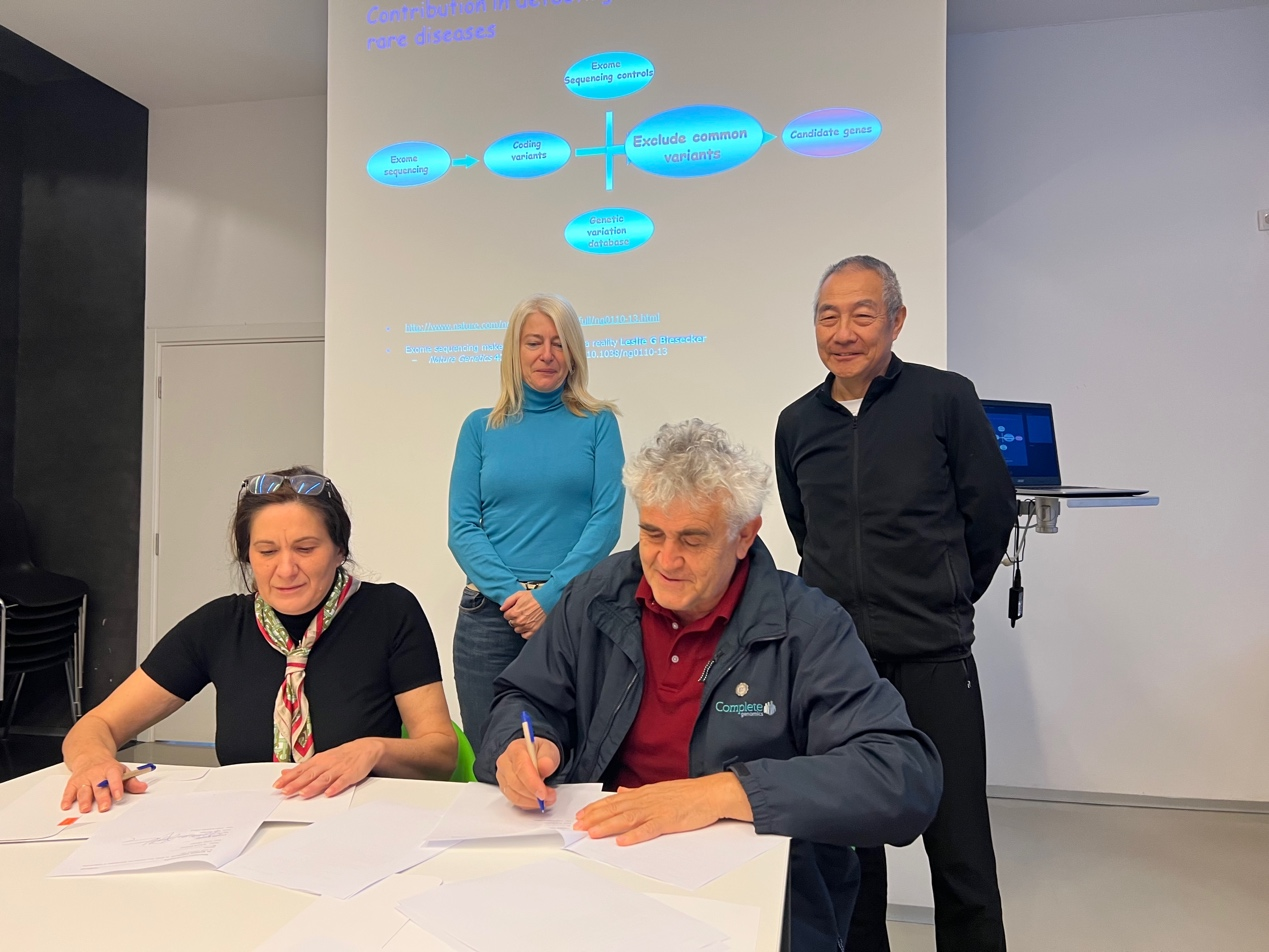 Institute of Molecular Genetics and Genetic Engineering Full Research Professor, Ivana Strahinić (front row left) signs a MOU with MGI Tech Chief Scientific Officer, Radoje Drmanac.
Wang Jian and Minister Begovic also witnessed the signing of a memorandum of understanding on strengthening scientific research cooperation between Complete Genomics, a subsidiary of MGI Tech Co., Ltd., and IMGGE. According to the memorandum, Complete Genomics will donate a MGI Tech DNBSEQ-G400 Sequencer to IMGGE to support the research on genomics.